Navigation
Quick Search
Site Networking



Beta Login
Welcome to JSoftgames.com
Current Development: Rodent Rush
All games were safely grown inside of a special digital incubator
Think you can beat the all time worldwide highscores!
Run around and eat cheese, mice love cheese
No Trees were harmed in the making of this website.
New Game In Progress!
I'm working on something new for the Arcade, and I think people will enjoy this one. I'm experimenting with something that I've never done before, so hopefully I can pull it off! The screenshot is an early version. Happy Summer Days!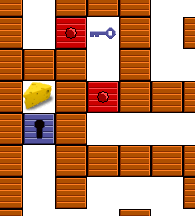 5 Comments
Posted on 28 May 2009 by JacobB
Comments:
by Andrew LaFontaine @ 01 Jun 2009, 14:04
looks interesting, like a game I used to play that came with Windows 9x. If you remember the old games like ski free and pipedream. let me look it up real quick
* Chip's Challenge - a puzzle game where you needed to collect all the chips on each level.
* Dr. Black Jack - a blackjack game tutor
* FreeCell - a solitaire card game that is now bundled with Windows
* Golf - the traditional solitaire variant
* JezzBall - a game of reflexes in which the player had to trap bouncing balls in small boxes
* Pipe Dream - in which the player needed to build a system of interconnected pipes of a certain length
* Rodent's Revenge - in which a mouse needs to trap cats by pushing boxes
* SkiFree - a fairly simplistic skiing game
* Taipei - a version of Mahjong solitaire
* TetraVex - a puzzle game of arranging tiles
* Tetris - the classic game of falling blocks
* TriPeaks - a gambling solitaire card game
* Tut's Tomb - another solitaire card game
minus the card games they're no fun.
Comments are disabled fam, you have spam bots to thank for that. :P
Page Last Updated on: December 25 2018 17:39:05.